In total 841 officers and men of the 9th King's died during, or shortly after the Great War. I have included in this number some officers and men who had served in the 9th before being transferred elsewhere and were subsequently killed, as theirs is as much a part of the 9th King's story as their comrades who died with the battalion.
It is my intention that eventually there will be a cemetery photograph and a grave photograph on this site for each officer and man of the battalion who has an identified grave.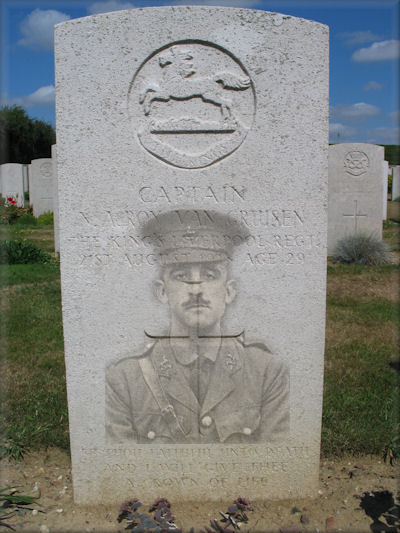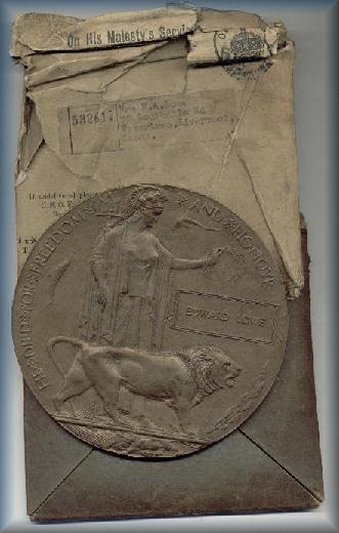 The dead of the 9th King's, those who have a known grave, are buried in over 150 cemeteries, across the Western Front, at home in the UK and one or two in unexpected places. This page gives details of those cemeteries.
If you are looking for a specific soldier of the 9th King's, but you don't know where he is buried, try a search on The Commonwealth War Graves website. With that detail you can then return to this page and see what information is held here by clicking on the link to that cemetery.
Abbeville Communal Cemetery Extension
Anzin-St Aubin British Cemetery
Avesnes-le-Comte Communal Cemetery Extension
Bac-Du-Sud British Cemetery, Bailleuval
Baghdad (North Gate) War Cemetery, Iraq
Bagneux British War Cemetery, Gezaincourt, Somme
Bailleul Road East Cemetery, St. Laurent-Blangy, Pas de Calais
Berles-au-Bois Churchyard Extension
Berlin South-Western Cemetery, Berlin
Boisguillaume Communal Cemetery
Braine Communal Cemetery, Aisne
Brandhoek Military Cemetery, Ieper
Brandhoek New Military Cemetery No.3, Ieper
Brandhoek New Military Cemetery, Ieper
Bruay Communal Cemetery Extension
Bucquoy Road Cemetery, Ficheux, Pas de Calais
Bulls Road Cemetery, Flers, Somme
Cabaret-Rouge British Cemetery, Souchez
Cambrai East Military Cemetery
Cantaing British Cemetery, Nord
Cerisy-Gailly Military Cemetery, Somme
Chocques Military Cemetery, Pas de Calais
Cologne Southern Cemetery, Koln(Cologne)
Corbie Communal Cemetery Extension, Somme
Dantzig Alley British Cemetery, Mametz, Somme
Delville Wood Cemetery, Longueval, Somme
Dernancourt Communal Cemetery Extension, Somme
Dive Copse British Cemetery, Somme
Dochy Farm New British Cemetery, Langemark-Poelkapelle
Douchy-Les-Ayette British Cemetery, Pas de Calais
Doullens Communal Cemetery Extension No.1
Doullens Communal Cemetery Extension No.2
Dourlers Communal Cemetery Extension, Nord
Dozinghem Military Cemetery, Poperinge
Ecoust-St. Mein British Cemetery, Pas de Calais
Erquinghem-Lys Churchyard Extension
Estaires Communal Cemetery Extension, Nord
Five points Cemetery, Lechelle, Pas de Calais
Fouquieres Churchyard Extension, Pas de Calais
Gezaincourt Communal Cemetery Extension, Somme
Gommecourt British Cemetery No. 2, Hebuterne
Grangegorman Military Cemetery, Dublin, Ireland
Grevillers British Cemetery, Pas-de-Calais
Guillemont Road Cemetery, Somme
Hamburg Cemetery, Hamburg, Germany
Haringhe (Bandaghem) Military Cemetery, Poperinge
Heilly Station Cemetery, Mericourt-L'Abbe, Somme
Heninel-Croiselles Road Cemetery
Hereford Cemetery, Herefordshire
Hermies Hill British Cemetery, Pas de Calais
Heswall (St. Peter) Churchyard, Cheshire
Joncourt East British Cemetery, Aisne
Kantara War Memorial Cemetery, Egypt
La Neuville British Cemetery, Corbie, Somme
Lapugnoy Military Cemetery, Pas de Calais
Laventie Military Cemetery, La Gorgue, Nord
Le Fermont Military Cemetery, Pas de Calais
Le Grand Hasard Military Cemetery, Morbecque, Nord
Le Treport Military Cemetery, Seine-Maritime
Les Gonards Cemetery, Versailles
Lijssenthoek Military Cemetery, Poperinge
Lillers Communal Cemetery,Pas de Calais
Liverpool (Everton) Cemetery, Lancashire
Liverpool (Kirkdale) Cemetery, Lancashire
Liverpool (West Derby) Cemetery
Longuenesse (St. Omer) Souvenir Cemetery
Louverval Military Cemetery, Doignies, Nord
Mendinghem Military Cemetery, Poperinge
Merville Communal Cemetery Extension, Nord
Metz-En-Couture Communal Cemetery British Extension, Pas de Calais
Moeuvres Communal Cemetery Extension, Nord
Moston (St. Joseph's) RC Cemetery, Lancashire
Moyennville (Two Tree) Cemetery, Pas de Calais
New Irish Farm Cemetery, Ieper
Noeux-Les-Mines Communal Cemetery
Oldham (Chadderton) Cemetery, Lancashire
Oldham (Greenacres) Cemetery, Lancashire
Outtersteene Communal Cemetery Extension, Bailleul
Pernes British Cemetery, Pas de Calais
Peronne Communal Cemetery Extension, Somme
Pont-Du-Hem Military Cemetery, La Gorgue, Nord
Potijze Burial Ground Cemetery, Ieper
Potijze Chateau Grounds Cemetery, Ypres
Potijze Chateau Lawn CemeteryIeper
Proville British Cemetery, Nord
Quarry Cemetery, Montauban, Somme
Queant Communal Cemetery British Extension, Pas de Calais
Queant Road Cemetery, Buissy, Pas de Calais
Ribecourt Road Cemetery, Trescault
Rocquigny-Equancourt Road British Cemetery, Manancourt, Somme
Roisel Communal Cemetery Extension, Somme
Rue-du-Bois Military Cemetery, Fleurbaix, Pas de Calais
Serre Road Cemetery No. 1, Somme
Sequehart British Cemetery No. 1, Aisne
Solferino Farm Cemetery, Ieper
St. Anne's RC Churchyard, Ormskirk
St. Hilaire Cemetery Extension, Frevent, Pas de Calais
St. Martin Calvaire British Cemetery, St. Martin-sur-Cojeul, Pas de Calais
St. Mary's A.D.S. Cemetery, Haisnes, Pas de Calais
St. Peter's Churchyard, Mawdesley
St. Sever Cemetery extension, Rouen
Strand Military Cemetery, Comines-Warneton, Hainaut, Belgium
Sucrerie British Cemetery, Graincourt-les-Havrincourt, Pas de Calais
Sun Quarry Cemetery, Cherisy, Pas de Calais
Sunken Road Cemetery, Boisleux-St. Marc, Pas de Calais
Templeux-le-Guerard British Cemetery, Somme
Terlincthun British Cemetery, Wimille, Pas de Calais
Tincourt New British Cemetery, Somme
Triangle Cemetery, Inchy-en-Artois
Villers Hill British Cemetery, Villers-Guislain, Nord
Villers-Bocage Communal Cemetery Extension, Somme
Villers-Faucon Communal Cemetery Extension, Somme
Vlamertinghe Military Cemetery, Ieper
Vlamertinghe New Military Cemetery, Ieper
Wailly Orchard Cemetery, Pas de Calais
Warlincourt Halte British Cemetery, Saulty, Pas de Calais
Willems Communal Cemetery, Nord
Worksop (Retford Road) Cemetery, Nottinghamshire