Second Lieutenant Herbert Gordon Thorpe, MC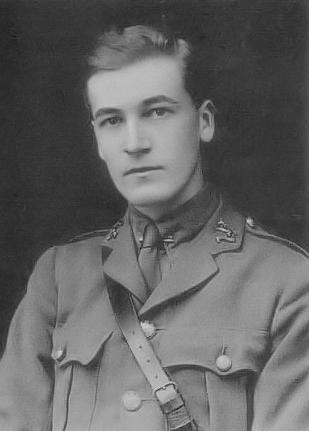 Herbert Gordon Thorpe was born at Acton, Middlesex, on 13th May, 1895, the second son of Herbert William (a haberdasher) and Lizzie Thorpe. The family moved to The Pavement, St Ives, Huntingdon and later to Rugby, Ventnor, Isle of Wight in 1909 and then to Cheltenham until in 1917 they settled in 'Katoomba', Warwick Rd, Bishops Stortford. Herbert was educated at Rugby School but after only two terms left for University College, Southampton where he obtained an Exhibition and passed the London Inter-Arts Examination with honours.
He originally enlisted as a Private No. 24323 in 11th Battalion, Gloucestershire Regiment on 21st August, 1915 and was quickly promoted to NCO rank, serving as a Bombing Instructor with the 94th Training Battalion at Chislehurst. Finding that this role kept him in England, he applied for, and obtained, a commission in the King's Liverpool Regt on 29/8/17, crossing to France in October of that year for service with the 1/9th Battalion, after the huge losses suffered by that battalion during the Third Battle of Ypres.
During the Army reorganisations of January, 1918 which saw the number of battalions per brigade reduced from 4 to 3, the 1/9th Battalion of the King's Liverpool Regiment was disbanded and the officers and men distributed amongst other battalions of the regiment. Herbert was one of those to be posted to the 1st Battalion, on the 2nd February, 1918.
During the German Spring offensive of March 1918, his Battalion, having just been relieved for rest, receive sudden orders and was sent back to the front line, facing Verlu Wood, to help stem the German breakthrough. At about 09:20 a.m. 'C' Company was heavily shelled and in the aftermath only 8 other ranks were fit to duty. The enemy attacked soon after, and heavy fighting ensued. Although the line occupied by the King's held, the lines held by other units on its flanks were penetrated, and about noon orders were given to fall back. The retreat was covered by the Battalion machine gunners who took heavy losses. By about 2:30 p.m. all men of the brigade, who could be found, were manning the new line, the effective strength of the 1st Kings was put at only 60 men. A second retirement was ordered at 3 p.m. and the brigade fell back once more but this time the line was held. At first, Lieutenant Thorpe was posted as missing, believe killed in action, but his remains were found by units of the Graves Registration Department in October 1919 on the battlefield near Havrincourt and interred in Bancourt British cemetery, Plot IX, Row A, Grave 1.
He may never have known that he had been awarded the Military Cross for his gallantry. The citation for the award stated: "For conspicuous gallantry and devotion to duty in leading a daylight raid. On two previous occasions he attempted to raid a post, but was frustrated due to machine guns the uncut wire. He also did very good work carrying out reconnaissance and bringing back valuable information." - London Gazette 29/08/1917.