2923 Private Albert Pearson, 'B' Company, 1/9th King's Liverpool Regiment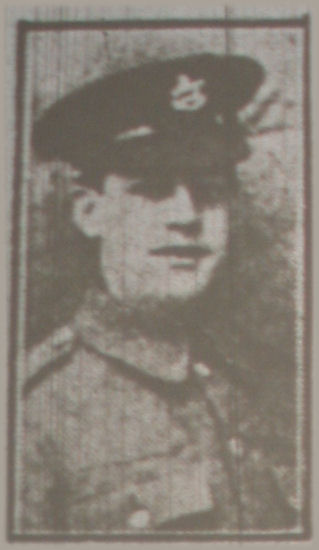 Albert Pearson, born in Liverpool in October 1897, was the son of William and Mary Agnes Pearson. His birth was registered in the first quarter of 1898. The 1901 Census shows them living at 26, Barnet Street, Edge Hill, Liverpool along with Albert's younger sister, Maggie (aged 1). This was the home of one of his parents' cousins, Patrick Fitzsimmons.
Albert joined the 9th Battalion of the King's Liverpool Regiment on 10th November, 1914 just three months after the outbreak of the Great War. He was only sixteen and a half years old, but gave his age as nineteen. This false age was clearly accepted as on his service record are details of the medical examination he underwent on the day he enlisted. He is described as, "19yrs old, 5ft 5" tall, 31&1/2 inch chest, of good physical development and with good vision".
He trained with the Battalion at Tunbridge Wells until, on 12th March, 1915, with 28 officers 947 other ranks, they crossed the English Channel to France to join the 1st Division of the British Expeditionary Force.
To accustom the battalion to life in the trenches, two companies at a time were attached to the existing trench garrison for a short period of instruction. On 6th April, 'A' and 'B' Companies went into the trenches by platoons with 2nd Bn. Royal Sussex Regt. and 1st Bn. Northamptonshire Regt. (both Regular Army battalions) respectively at Neuve Chapelle and Port Arthur. Private Arthur Pearson was serving in 'B' Company.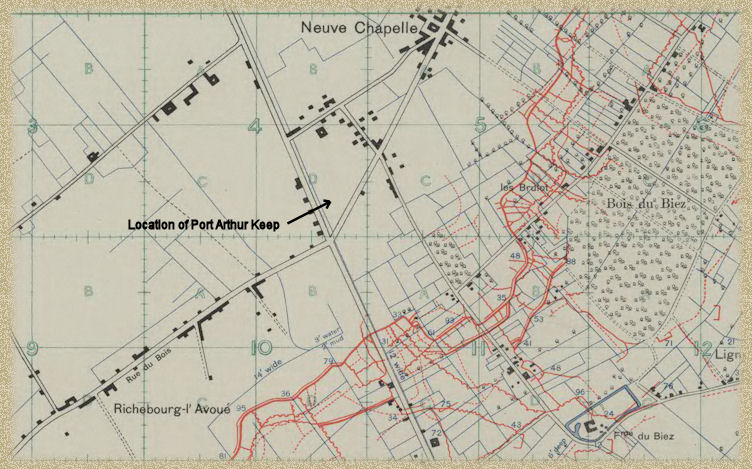 The area where 1/9th King's Liverpool Regt. first experienced trench warfare. The British Trenches were not marked for security reasons.
On 9th April, 'A' and 'B' Companies were relieved by 'C' and 'D' Companies. On 12th April 'A', 'B' and 'C' Companies marched to billets at Oblinghem. Two men had been badly wounded during the 9th King's short spell in the trenches (one in 'A' Company and one in 'D') and both subsequently died of their wounds.
On the 24th April, the Battalion, less 'A' & 'B' Companies and the Machine Gun Section marched to billets at RICHEBOURG ST. VAAST. 'A' Company marched with 2nd King's Royal Rifles to trenches in the D.2. Sector whilst 'B' Company marched with 1st Bn. Northampton again to trenches in Sector D.3.
Later that day a shell exploded in the trench, killing Albert Pearson and another Liverpool man, John Henry Lunt. Albert was still only seventeen and a half.
He was buried at Cabaret Rouge British Cemetery, Souchez, Pas de Calais.
He was survived by his parents, his brother, Joseph (b.abt.1890) and sisters Jessie (b.abt.1892), Margaret (b.abt.1900) and Minnie (b.abt.1903).
The Liverpool Echo of 6th June, 1915 carried the following article:
"YOUNG TERRITORIAL'S END
Private Albert Edward Pearson, who joined the 9th Liverpool's (B Company) in November, has been killed in action 'somewhere in France'. He was only seventeen years of age, his eighteenth birthday being in October next. He went to the front six weeks ago. His home was at 13, Myers Street, Smithdown Lane, Liverpool. A comrade, writing to his parents, says, 'He was a great chum of mine, and one of the best. He was laid to rest with two more of our boys. He was liked by all the boys in his section, and he will be missed by all of us".