Sergeant Christopher Madden, M.M.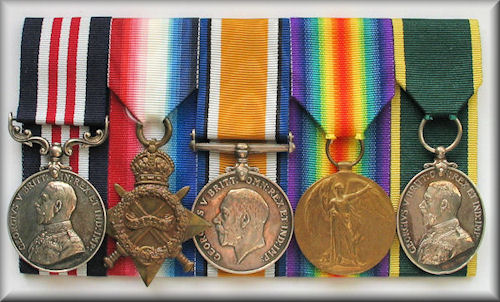 Christopher Madden was born in Calbrason Street, Dublin in 1887. His Parents moved to Liverpool to look for work when he was 4. He joined the 9th Battalion of the King's Liverpool Regiment (Territorial Force) in 1910, aged 23.
He married Alice Foster when he was 19. Alice was a chorus girl on the stage. They had 7 sons and 2 daughters together. Among the places he lived were Woolston Square in the City Centre. He moved onto 37 Sykes Street in Everton and was living there when war broke out. His battalion, the 1/9th, was duly sent to France in 1915. He was primarily with the 9th KLR, although according to his service record, he was also with the 5th & 7th KLR for a time. You can read the war diaries of the period on this website to get a sense of where Chris was and what battles he fought in.
His Military Medal award came about in September 1917 at the Battle of Menin Road, (20 - 22 September). Some time during these 2 days, according to his family's recollections, Chris went out under heavy enemy fire into no man's land to rescue a wounded officer. The award appears in the London Gazette of 14th January 1918. As was common at that time, awards only appeared some months afterwards. As well as the Military Medal, Chris was also awarded the 1914-15 star, the British War medal, the Victory medal and the Territorial Force Efficiency medal.
After the war, Chris was demobbed and went to work for Faireys sugar plant (now Tate & Lyles) as a labourer. This did not last long however as he was dismissed for trying to start a union!
He then re-enlisted back into the KLR. As a by-product of him being gassed several times during the war, he was eventually declared unfit to serve and left the army again. His health gradually deteriorated over the years, and he was forced to sell the medals to buy food. He eventually moved to a brand new council house in Norris Green in 1937.
In the Second World War, Chris volunteered and became a member of the Home Guard until his ongoing illness as a by-product of the gassing caused his death in 1941.
His grandson Chris remembers going with his granddad to see a Doctor Johnson just before he died, the doctor saying to Chris Senior, "eh Chris lad, you're buggered, there's nothing down for you". All Chris' sons served in the forces with Chris juniors' father rising to the rank of RSM.