Lance Sergeant William Farrington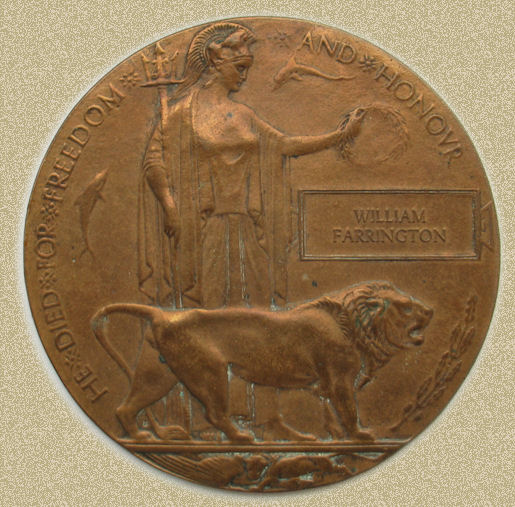 William Farrington was born about 1886 at Lathom, near Ormskirk the son of William and Mary (nee Gore) Farrington.
In 1891 he was living with his parents and siblings at Hoscar Moss, a rural area north of Ormskirk. His father was a farm labourer as his father had been before him. William had an older brother, John, a younger brother Thomas and a younger sister, Margaret.
It appears that his father died early in 1895 when William was about 11 years old. William's mother re-married a man called Robert Hankin in 1899.
William was living at 3, Field Street, Skelmersdale when he enlisted, which was the home of his younger brother, Thomas.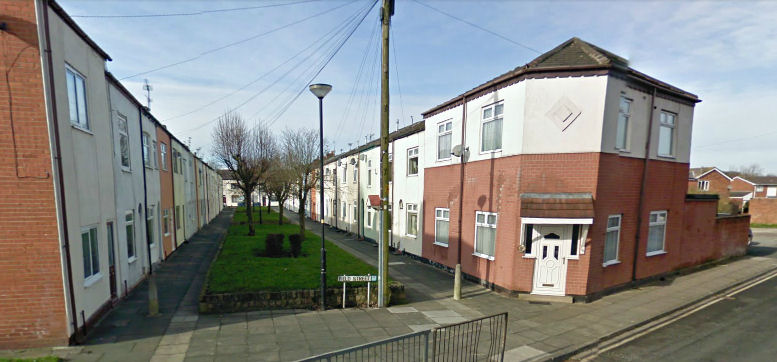 Field Street in 2010
William worked as a labourer and also described himself as a collier, employed by Griffiths, of Scarisbrick.
He enlisted on the day war was declared, 4th August, 1914 stating that he had previous service in the 9th King's. I have been unable to find any details of his previous service, but assume that he was a member of the Ormskirk Company, which was formed in 1908.
When he enlisted in 1914 he was 28yrs 6 months old, 5ft 10" tall, 12 stone 7lbs, 40" chest, good vision and good physical development.
He would have gone north with his battalion, to Dunfermline where he and his colleagues manned the Firth of Forth Defences initially, before being moved south, to Tunbridge Wells, to train for their future deployment to the Western Front. He signed the Imperial Service Obligation, agreeing to serve overseas, whilst at Tunbridge Wells on 27th October, 1914. Prior to this, Territorial soldiers could not be made to serve outside the UK as this would have been in contravention of their terms of attestation.
As a man with previous military experience, even though it might not have been much, it was clearly of value in a rapidly expanding Army. He was appointed paid Acting Corporal on 27th February, 1915.
Two weeks later, on 12th March, 1915 the 1/9th King's Liverpool Regiment, with William Farrington in their ranks, embarked at Southampton. They were going to war.
Initially, the battalion joined the 2nd Brigade, 1st Division and with that formation took part in the Battle of Aubers Ridge on 9th May, 1915. The attack was a failure and even though the 1/9th King's were held in close reserve and their part in the attack was cancelled before they went over the top, they suffered approximately one hundred casualties, mostly from retaliatory shell fire.
William was appointed paid Lance-Sergeant on the 22nd July, 1915.
Later in the year the largest British effort of the war so far was launched - the Battle of Loos. The 1/9th Battalion and the London Scottish, made up 'Green's Force' which was tasked with attacking in the region of Lone Tree on the opening day of the offensive, 25th September 1915. William Farrington would have been amongst the men of the 1/9th attacking that day. Losses were very heavy and when they were withdrawn from the front line in the early hours of the 28th September, 11 officers and 223 other ranks had been killed, wounded or were missing. But the battle continued and there was not much time to rest and recuperate. On 7th October, the depleted battalion was back in the front line just a day before a large German counter-attack fell upon their position. Losses on the 8th October were again very heavy, with 3 officers and 98 other ranks killed, wounded or missing. William Farrington was amongst those killed that day.
He has no known grave and his name is commemorated on the Loos Memorial.
His mother, who by 1919 was living at The Almshouses, Lathom Park, Ormskirk, acknowledged receipt of William's medals, the 1914-15 Star on 28th March, 1919, the British War Medal on 18th December, 1920 and finally his Victory Medal on 20th February, 1922. No doubt each delivery brought back painful memories.