Company Sgt-Major Frank Edgar Ash, M.C.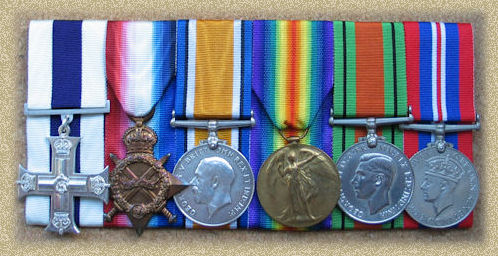 Frank Ash's birth was registered at St. Pancras, London, in the first quarter of 1889. He was the son of Edward (an auctioneer) and Mary Ash. The 1891 and 1901 Census both record the family living at 59, Oakley Square, St. Pancras, London, a short distance from Regent's Park. Frank was the 5th son, his older brothers being Albert, Ernest, Percy and Sidney. He had a younger sister, Ethel. The family had two servants living in the house in 1891.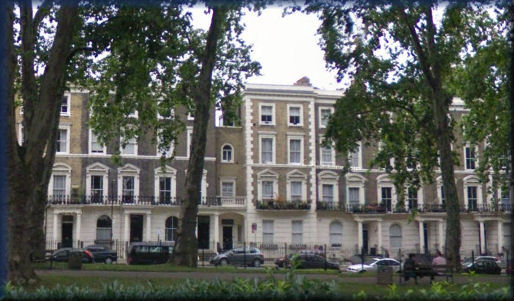 Oakley Square
At some time between 1901 and 1908, the family, or at least, Frank and his father, moved north to Liverpool.
Frank enlisted into the 9th Bn. King's Liverpool Regiment on 16/02/09.
On the 1911 Census, Frank and his father are both described as picture framers, living at 8, Pembroke Street, Liverpool.
When the war broke out, Frank Ash and his battalion were mobilised and sent north, to man the Firth of Forth defences, staying there until the end of the year until they moved to Tunbridge Wells for training for the day they would take their place in the trenches of the Western Front. They embarked for France on 12/03/15.
Frank Ash was a Sergeant when they went to France and fought in every major engagement that the 9th King's were involved in - Loos in September, 1915 where he was blown off his feet and buried by a shell, Guillemont on the Somme in August, 1916 where the battalion suffered heavy losses and then at Flers on 25th September, 1916 where he was badly wounded by the explosion of a shell. [Another 9th King's NCO wounded that day was Sgt. William Griffiths, who also appears in the biographies on this website]
Frank Ash's exemplary service was noted by his senior officers and the following citation dated 11/10/16 was put forward:
"For consistent good work and devotion to duty. This Warrant Officer has been in France since March 1915 and has taken part in every battle, in which the battalion has been engaged. At LOOS - 25-9-15, although blown off his feet, buried and rendered unconscious by a shell he refused to be sent back. By his willingness and cheery nature, especially under adverse circumstances and very trying conditions, he has always set an excellent example to his men. During operations on 12-8-16 near GUILLEMONT he displayed marked courage and coolness in handling his men. This warrant officer sustained severe shell wounds when leading his men during the attack near GUEUDECOURT - 25-9-16."
The handwritten recommendation of 11/10/16, signed by his CO, Lt.Col Hugo Woodhouse, was initially for the award of the Meritorious Service Medal, but this was amended to a Military Cross which was subsequently awarded. His MC was gazetted 01/01/17 and was noted the Battalion War Diary 07/01/17.
CSM Ash's wounds were serious enough to render him unfit for further service so he didn't return to his unit, being discharged from the Army on 26/09/17.
His Medal Index Card mentions the award of a Territorial Efficiency Medal, but this is unconfirmed.